It's been just over a month since I reached the summit of the 6th highest mountain on Earth – Mt. Cho Oyu – and only now am I returning home to my very own basecamp here in Ottawa, Canada.
I can't help but look back at my experience in the high Himalayas and wonder what it would have been like if Kheiry, my climbing partner had made it. You see, once you've reached a certain level in high altitude mountaineering, as with many things in life, you need to continually re-invent yourself in order to find inspiration to carry on.
Most people fail to realize the sheer difficulty that we endure as high altitude mountaineers. The truth is this: High above the clouds your body deteriorates. You're constantly battling the cold. You're sleeping in sub-zero temperatures. You're beaten down daily by the wind. Dinner is a dehydrated meal pack. You're an insomniac because of the altitude and you're thousands of miles away from your loved ones with little to no communication.  These are but some of the challenges that we face daily. Under these circumstances, that purpose, the one that you define as your source of motivation IS what gives you the strength to carry on.  Before I embarked on the expedition I asked myself "Why am I doing this?" I needed a reason. I needed to have something to believe in that would drive me forward and upwards in the most difficult of times. That purpose, was my friend Kheiry.
I remember summiting Kilimanjaro with him in 2010 and hugging him above the clouds. It was a privileged experience as we were the only ones on the summit and shared that special moment together. The look on his face as we stood there, on the highest point on the African continent was one of sheer happiness. I wanted us to live that moment together on the summit of Cho Oyu, or 'The Ogre' as he referred to her. I wanted to be behind him every step of the way. I wanted to know that I had a part in helping him achieve his dream. Time after time I watched it play out in my mind like a perfectly scripted Hollywood film.  We planned, we prepared, we trained and we put the best team in place and yet in the end it simply wasn't enough.  Was it a failure? Is chasing your dream a failure if the outcome isn't exactly as you imagined it would be? I know that lesson well having turned my back on Everest twice with less than 500ft remaining between success and so called  'failure'. If you were faced with a similar dilemma and had prepared for almost 2 years and 'failed', how would you feel today? Would you have the courage to get up and try again?
In the end, Kheiry made it down safely. Jeremie,  Namgyal and Pema went home early. And somehow, against all odds Dawa Tenzing Sherpa and I made it to the summit.
I'm proud of K and the way he handled the situation. Unlike some unfortunate others, he accepted his reality gracefully and bowed down in retreat. K, I can't thank you enough for making me a part of your dream. Cho Oyu is an adventure I will never forget.
While all of this was going on in Tibet, students in Ottawa were facing their own challenges back home. They set goals as we did, collectively and/or individually.  Our expedition served as inspiration for students following the expedition. What those students may not realize is that in the most difficult of times they too inspired us. They gave me the strength to carry on when all had gone wrong. They enabled me to find the will to endure the hardship on my own summit day. I believe our challenges on our own levels are equally as daunting whether we're summiting the world's tallest peaks or trying to overcome a fear of the dark. The following are the Challenges of a Grade 1 class at Hopewell Public School. I reread this many times on my way to the sumit.
My Cho Oyu Challenge is not to be afraid of heights.
My Cho Oyu Challenge is to learn how to swim.
My Cho Oyu Challenge is to stay in the lunchroom by myself.
My Cho Oyu Challenge is trying not be afraid of elevators.
My Cho Oyu Challenge is to not be scared of the dark.
The grade 5/6 students from Vincent Massey Public School took part in Our Cho Oyu challenge by accomplishing their own ambitions and goals.  Here's a video of their climb up King Mountain as they celebrated all their accomplishments.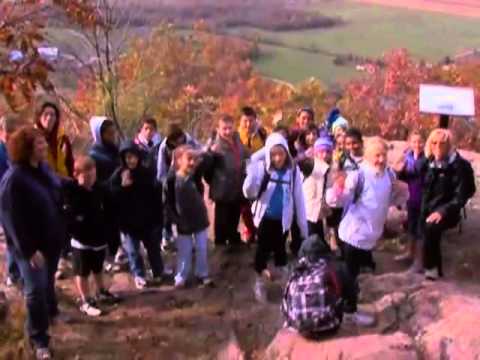 Students from St- Greg's introduced 'Our Challenge Cup' – given out each week to the class who has met the challenge of the week. The entire school was involved in the initiative.
Students from Ange-Gabriel in Brockville successfully completed their collective Cho Oyu challenge of running 820.1km! Their story was featured in their local Recorder & Times. Congratulations!
These are but some of the stories of student accomplishments. There are many more.
I'd like to take a moment to thank all of the teachers who continually support our expeditions and encourage us to carry on our mission at FindingLife. I've always said that FindingLife works because of your participation. I'd also like to thank all of the students who took part in Our Cho Oyu Challenge who inspired us throughout our climb. You guys are awesome!
And to all of our readers and followers outside of the educational system, your encouragement and participation does not go unnoticed. Even while in Tibet, your support was felt and for that we thank you. We hope that our initiative inspired you to Aim Higher as the view from top is certainly one that you will never forget.
The only limits are the ones we set upon ourselves.
Always remember… Your life, is your adventure.
Elia Saikaly